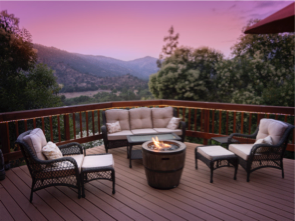 B
usiness at the Log House Lodge has been growing steadily ever since we first opened in 2008. It is currently one of the best reviewed and highest rated lodging facilities in the Sequoia area.

Unfortunately due to family emergencies and other factors the Lodge has been closed for nearly half of 2017.
Nevertheless we do celebrate the completion of a spectacular new deck. Our guests can now enjoy the sunset in the Sierra Foothills in even more relaxing comfort.



Each year visitors from more than a dozen countries have made the pilgrimage to Three Rivers to sample Mauriene's hospitality and incomparable cooking in the back woods luxury of the Log House Lodge.

We look forward to providing our guests with an even more pleasant and personalized experience.